Acne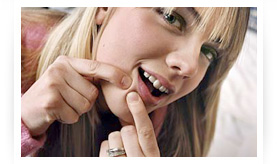 Acne and Acne Treatment, defined as an inflammation of the skin because of a sebaceous gland, located at the bottom of each hair follicle, becomes trapped with natural oils, causing a bacterial buildup and inflammation. This condition may be worsened at adolescence, pre-menstrual or mid-menstrual cycle due to hormonal action, and when under stress, eating a poor diet or on contraceptives. Treatments can be found every where from T.V. ads and infomercials, to your grandmother's Sunday afternoon home remedy advice. What follows is a brief list of some acne treatment recommendations made over recent years:
It has been said that certain foods may aggravate the condition such as chocolate, fruit juices, carbonated beverages, caffeinated beverages and milk products. Excessive long-term seafood or other high iodine foods may also bring on acne bouts in some people.


Vitamin B6 is said to help specifically for menstrual related onset of acne—if you can pin it down to that being the culprit. With many young women, their cycles have not stabilized and thus, may be misleading as to the cause of the acne. Taking unnecessary supplements without proof of cause as an acne treatment is never advisable.


One source we found suggested that you add fiber to your diet and fast for one day per week for several months. While adding fiber to your diet is good advice in general, this approach seems a bit harsh for a skin condition and may take months to provide any results.


Some of the more 'unconventional' acne treatments include Aromatherapy, Guided Imagery, Hypnotherapy, Yoga, Ayurvedic Medicine, Hydrotherapy and Homeopathy. If you attempt any of these avenues, please make sure to seek out professionals in the field for appropriate supervision of a program.
With all that said (and no doubt some attempted), the best and most sound way to deal with acne treatment is to consult a physician. A physician can ask all the right questions to determine the best acne treatment for your particular case and then prescribe that treatment on the spot.
WARNING: Limitations of Online Doctor/Medical Consultations and Online Prescriptions, QuickRxRefills Cannot and Will NOT Prescribe, Dispense, or Resell any and all medications Narcotics/Controlled Substances (this policy is fully enforced by the Drug Enforcement Administration (DEA)) for Anti-depressants, Pain, Anxiety, Weightloss, Sleep, ADHD/ADD, Anabolic Steroids, Testosterone Replacement Therapy and any and all Medications that contain GabaPentin or Pseudroephedrine including non-controlled substances or any medications that are considered controversial, Off Labeled (Growth Hormone aka HGH) or recalled in nature such (i.e. Retin-A, Accutane). Furthermore, QuickRxRefills is not a substitute for an office based physician in your location nor is it a substitute for Emergency Medical Care or 911. If you do experience a "true" medical emergency your are encouraged to pick up the phone and dial 911 as soon as possible.