Athletes Foot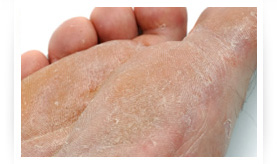 Most of us have at least heard of the common skin problem, athlete's foot. An ailment among athletes and the public at-large, athlete's foot is a skin rash found on the feet. The rash is considered to be the most common fungal skin infection suffered by humans.
There are three types of athlete's foot, each of which affects a specific part of the foot. While the following information provides an overview of the cause and symptoms of Athlete's Foot, we recommend you click on the 'Request a Consultant' link above so you can enjoy an online athletes consultation and can obtain an online athletes foot prescription if necessary.

In general, athlete's foot occurs when a fungus attacks the skin of the foot. Because warm, wet places are an ideal breeding ground for fungi, it makes sense that the feet can be an inviting area for athlete's foot to grow. Athlete's foot is known to spread rather easily from person. For example, if an individual shares socks or shoes with someone who has athlete's foot, he or she can contract the fungus.

The symptoms of athlete's foot vary depending on the individual and the type of fungus attacking the skin. For more details, check out our athlete's foot pictures. Through your online athlete's foot consultation, your doctor will also be able to determine whether or not you are suffering from this infection and whether or not an online athletes foot prescription is needed.

Vesicular Infection
This type of infection typically starts with an unexpected outbreak of large blisters. The blisters are filled with a fluid and appear under the skin. While the blisters can appear on any part of the foot, they are most commonly found on the top of the foot.

Toe Web Infection
The toe web infection occurs when the skin becomes scaly, cracks and peels between the fourth and fifth toes.

Moccasin-Type Infection
Soreness is generally the first sign of the moccasin fungus. When this infection occurs, the skin thickens and cracks on the heel or bottom of the foot. In extreme cases, the toenails can also suffer from the fungus, requiring a separate treatment from the initial infection.

Again, each type of infection requires a certain method of treatment and a specific type of prescription for athletes foot.
WARNING: Limitations of Online Doctor/Medical Consultations and Online Prescriptions, QuickRxRefills Cannot and Will NOT Prescribe, Dispense, or Resell any and all medications Narcotics/Controlled Substances (this policy is fully enforced by the Drug Enforcement Administration (DEA)) for Anti-depressants, Pain, Anxiety, Weightloss, Sleep, ADHD/ADD, Anabolic Steroids, Testosterone Replacement Therapy and any and all Medications that contain GabaPentin or Pseudroephedrine including non-controlled substances or any medications that are considered controversial, Off Labeled (Growth Hormone aka HGH) or recalled in nature such (i.e. Retin-A, Accutane). Furthermore, QuickRxRefills is not a substitute for an office based physician in your location nor is it a substitute for Emergency Medical Care or 911. If you do experience a "true" medical emergency your are encouraged to pick up the phone and dial 911 as soon as possible.