Cold Sores
How QuickRxRefills.com Work
Getting a Prescription for cold sores from QuickRxRefills, it's as simple as:
1. You log onto your computer and go to www.QuickRxRefill.com .
2. You fill out a brief form describing why you are seeking an online doctor.
3. You wait in the comfort of your home or office for a response by a QuickRxRefill doctor.
4. The QuickRxRefills doctor contacts you via telephone to discuss your symptoms.
It's That Simple!
Fees for a Consultation
Service
Price

Initial Consultation

Follow Up Consultations

$100

$80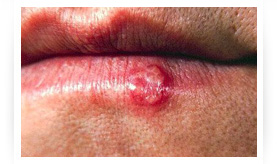 Often referred to as fever blisters, cold sores are caused by Herpes simplex virus type 1. There is also a Herpes simplex virus 2 that causes genital herpes. However, according to the Mayo Clinic, either virus can cause sores on the face or genitals. Once an individual has contracted the virus, he or she has it for life, as there is no cure for the virus. The virus can lay dormant for months or longer.
Cold sores can be very painful and unattractive (see pictures of cold sores). Symptoms usually include small blisters that are red and filled with fluid. Patients may also experience pain and tingling in the infected area. Overall, a cold sore should last about 10 days.
While there is no cure for cold sores, you can take some preventative measures to hopefully prevent them from occurring:
Do not share items such as towels, utensils and lip balm with someone who has an outbreak.
Avoid kissing an individual if he or she has open or healing blisters.
Use sun block.
Avoid stressful situations that may trigger blister outbreaks.
The Mayo Clinic recommends individuals seek cold sore treatment with a doctor if they experience any of the following:
The cold sores fail to heal within a week or two.
The symptoms of the sores are severe.
You experience eye irritation.
You suffer from cold sores on a regular basis.
You have a health condition that has compromised your immune system.
WARNING: Limitations of Online Doctor/Medical Consultations and Online Prescriptions, QuickRxRefills Cannot and Will NOT Prescribe, Dispense, or Resell any and all medications Narcotics/Controlled Substances (this policy is fully enforced by the Drug Enforcement Administration (DEA)) for Anti-depressants, Pain, Anxiety, Weightloss, Sleep, ADHD/ADD, Anabolic Steroids, Testosterone Replacement Therapy and any and all Medications that contain GabaPentin or Pseudroephedrine including non-controlled substances or any medications that are considered controversial, Off Labeled (Growth Hormone aka HGH) or recalled in nature such (i.e. Retin-A, Accutane). Furthermore, QuickRxRefills is not a substitute for an office based physician in your location nor is it a substitute for Emergency Medical Care or 911. If you do experience a "true" medical emergency your are encouraged to pick up the phone and dial 911 as soon as possible.