Shingles
How QuickRxRefills.com Works
Getting a Prescription for Shingles QuickRxRefill, it's as simple as:
1. You log onto your computer and go to www.QuickRxRefill.com
2. You fill out a brief form describing why you are seeking a doctor.
3. You wait in the comfort of your home or office for a response by a QuickRxRefill online doctor.
4. The QuickRxRefill doctor contacts you via telephone to discuss your symptoms.
It's That Simple!
Fees for a Consultation
Service
Price

Initial Consultation

Follow Up Consultation

$100

$80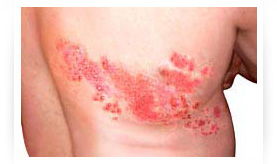 Shingles disease is a viral infection that results in a painful rash. Often referred to as herpes zoster, shingles typically forms as a band of blisters that run from the middle of the back to one side of the chest or breastbone. Shingles rash may also appear on the face, scalp, or neck.
According to the Mayo Clinic, shingles is not a life-threatening condition. However, the red rash associated with shingles disease (see pictures of shingles) can be extremely painful. Other symptoms of shingles include fever, chills, headache, abdominal pain, and fluid-filled blisters.
Shingles disease is caused by a second eruption of the chickenpox virus, varicella-zoster. Anyone who has had chickenpox runs the risk of developing shingles. This is because the virus hides within the nervous system and can be dormant for years. If the virus reactivates, it travels along the nervous system, which is why the rash appears from the middle of the back and wraps around the body.
Initially a shingles outbreak can be hard to detect. The skin may experience significant pain before the rash appears. Only your doctor can properly diagnose and treat you for shingles.
If you are diagnosed with shingles disease, your physician may opt for any of the two treatment options:
Corticosteroids for inflammation relief
Antiviral medication
WARNING: Limitations of Online Doctor/Medical Consultations and Online Prescriptions, QuickRxRefills Cannot and Will NOT Prescribe, Dispense, or Resell any and all medications Narcotics/Controlled Substances (this policy is fully enforced by the Drug Enforcement Administration (DEA)) for Anti-depressants, Pain, Anxiety, Weightloss, Sleep, ADHD/ADD, Anabolic Steroids, Testosterone Replacement Therapy and any and all Medications that contain GabaPentin or Pseudroephedrine including non-controlled substances or any medications that are considered controversial, Off Labeled (Growth Hormone aka HGH) or recalled in nature such (i.e. Retin-A, Accutane). Furthermore, QuickRxRefills is not a substitute for an office based physician in your location nor is it a substitute for Emergency Medical Care or 911. If you do experience a "true" medical emergency your are encouraged to pick up the phone and dial 911 as soon as possible.